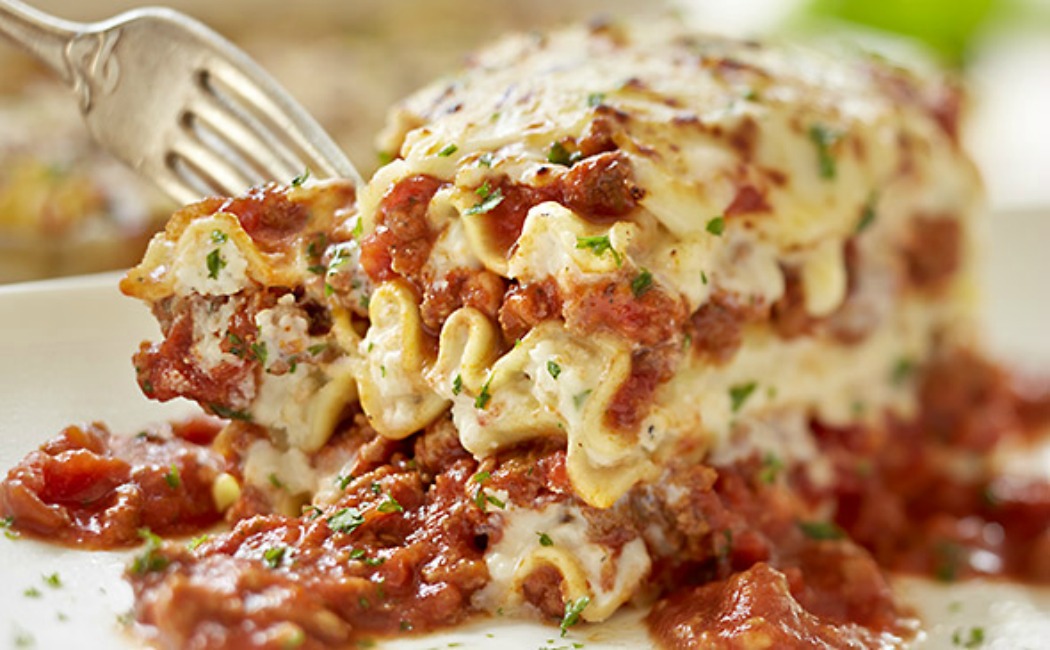 When I hear the words "Italian Lasagna" unless this famous pasta dish is made the way my mother used to make it, to me it's just not lasagna.  My mother was 100% German, and my father was 100% Italian.  After 25 years of marriage, my mom who was already an excellent cook had mastered the art of lasagna making, "Lorraine style."
Now for those food critiques out there who insist upon the extensive labor of homemade noodles and an herb tomato sauce simmering over the heat for hours to qualify as authentic Italian cooking, I completely get it. I can sincerely appreciate the incredible depth of flavor that is accomplished through the artful making of homemade ingredients.  I have great admiration for those who have the time and technique to create delicious pasta dishes with that level of time and commitment.  However, my mother wasn't one of them. Not because she didn't want to, but because her schedule didn't allow it.  Even so, whatever she created in her kitchen was delicious!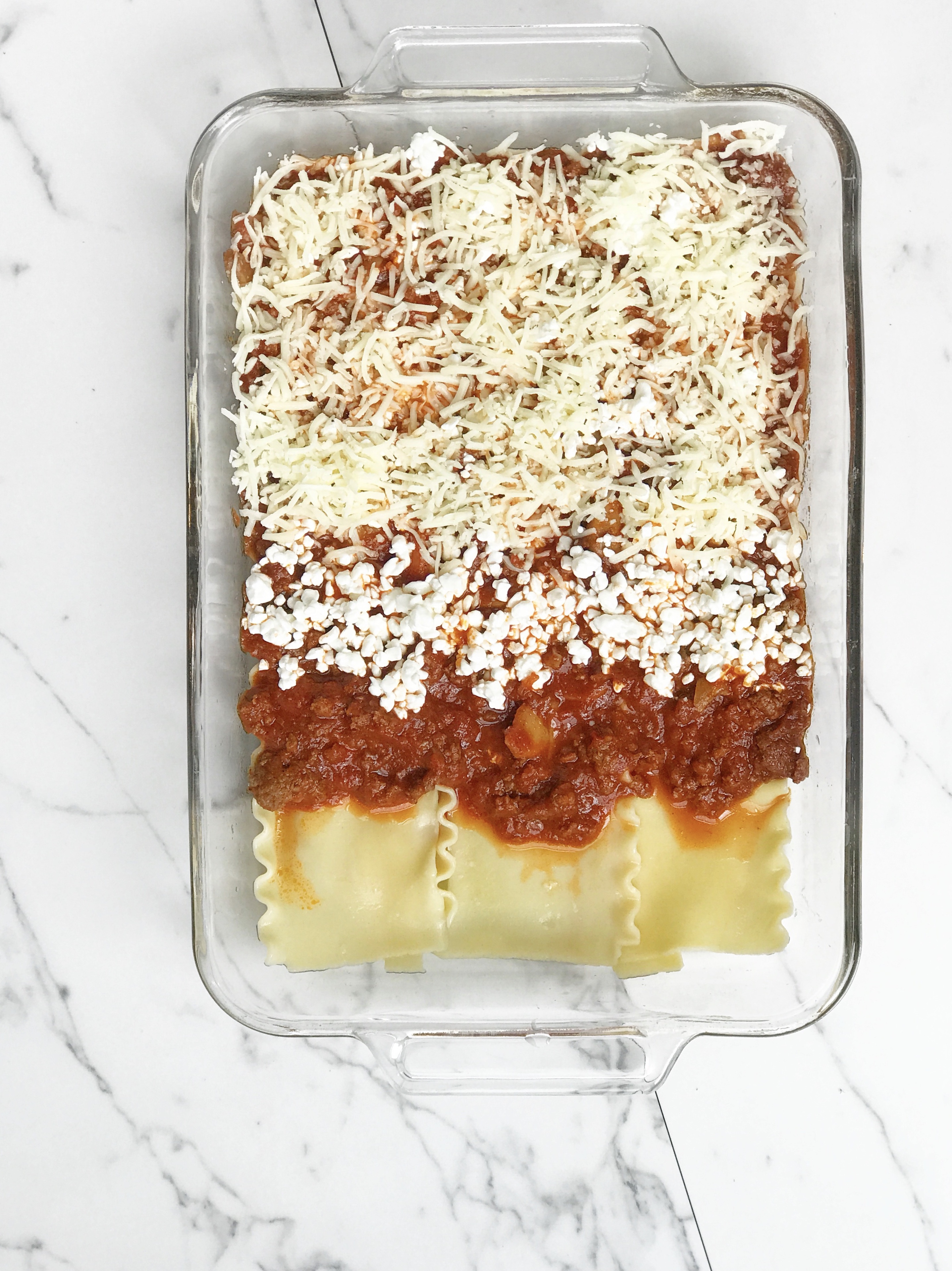 Like many hard working families today, my mother worked away from the home while raising five kids.  She didn't have the luxury or the energy to make time-consuming recipes after a long hard days work.  But she did want her family to eat well so instead she improvised with ingredients readily available at the local grocery store that got the job done.
Boxed noodles, Ragu spaghetti sauce and Green Giant Mushrooms all played a part in the symphony of flavors that created her famous lasagna.  But the true culinary magic was found in the combination of spices, loads of mozzarella cheese and the unexpected and unassuming dried cottage cheese sprinkled between each layer that created the feeling of culinary pleasure for those who at it.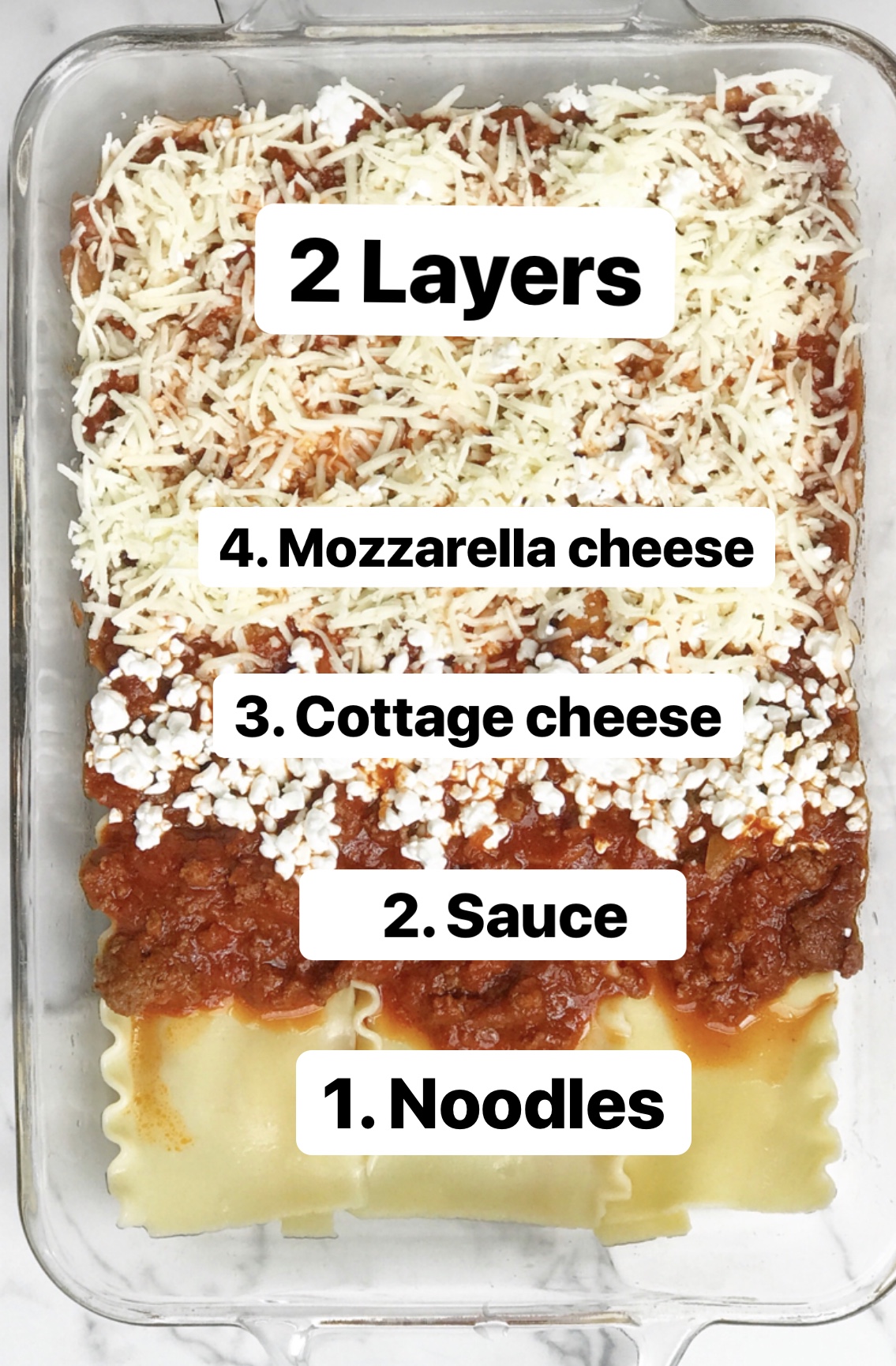 The art of making lasagna is not exactly rocket science, but there is a method that matters. This lasagna recipe includes 3 layers starting with noodles on the bottom, a layer of sauce, a layer of cottage cheese and a layer of mozzarella cheese.  Repeat, cover with foil and bake.
What is dry cottage cheese, you ask? Dry cottage cheese seems to be a thing of the past.  You might be hard pressed to find a container of dry cottage cheese at most grocery stores.  Yet it is the dry cottage cheese that sets this recipe apart from all of the others.  The soft white bits of cheese generously sprinkled between each layer of sauce and noodles creates a pleasantly subtle flavor and texture that takes lasagna to an entirely new level of deliciousness.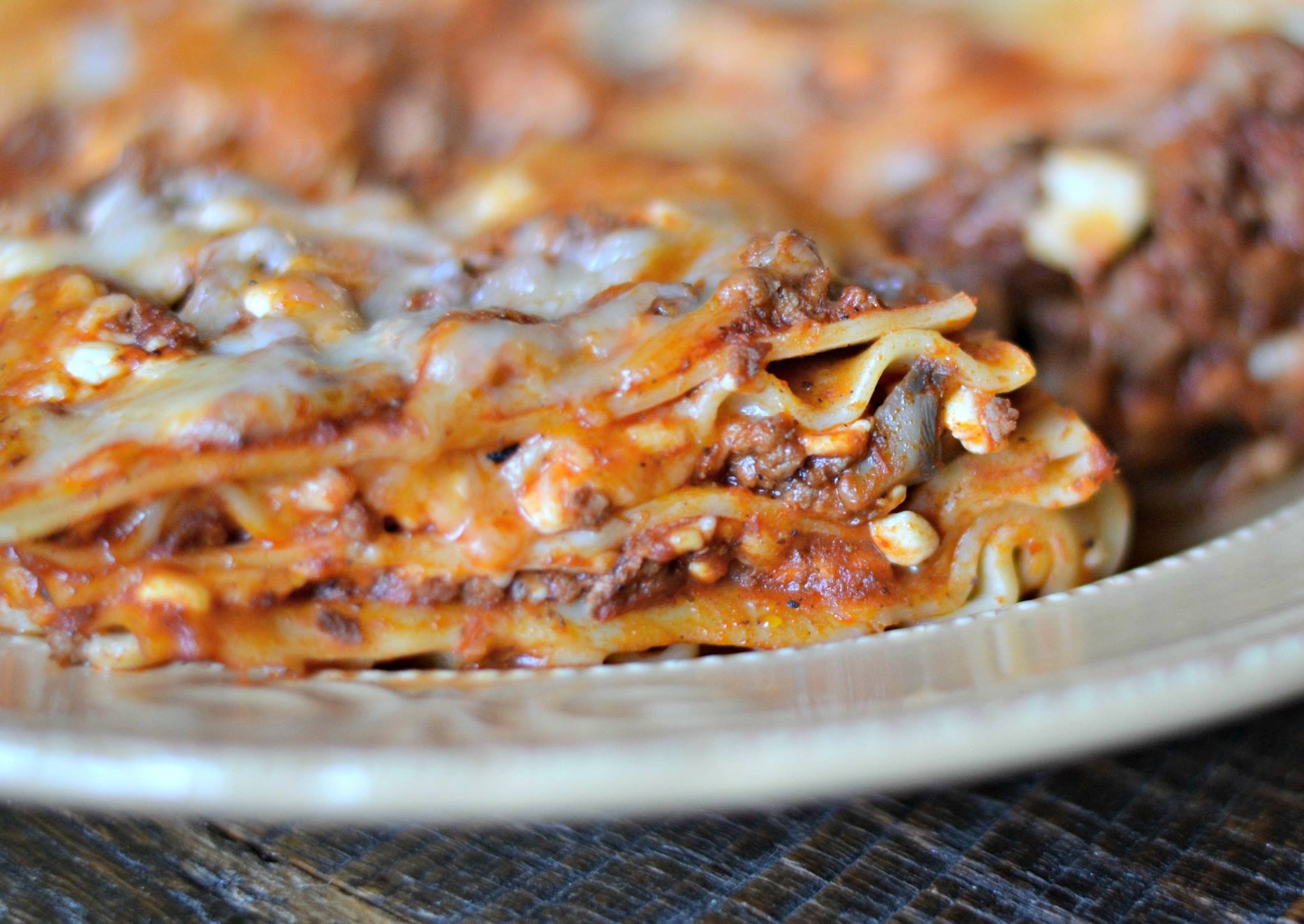 What's one to do if you can't find dry cottage cheese at the grocery store? What ever you do, do not substitute it with ricotta or another soft cheese or you will end up with a soupy mess on your plate. Create your own dry cottage cheese by placing the cheese in a colander over the sink. Using cool water and your sink sprayer, gently spray off all liquid from the cottage cheese until only the curdles are left in the colander. That's it! Now you have dry cottage cheese.
Warm cheesy Italian Lasagna with layers of meat-filled red sauce and tender dry cottage cheese is a refreshing take on this favorite one pan meal. Serve it with your favorite salad and baked garlic bread for the perfect Italian meal your entire family will love. Give this recipe a try and let me know how yours turns out! Buon Appetito! Enjoy your meal!
Print Recipe
Italian Baked Cheesy Lasagna
Yum
Warm cheesy Italian Lasagna with layers of meat-filled red sauce and tender dry cottage cheese is a refreshing take on this favorite one pan meal. Serve it with your favorite salad and baked garlic bread for the perfect Italian meal your entire family will love.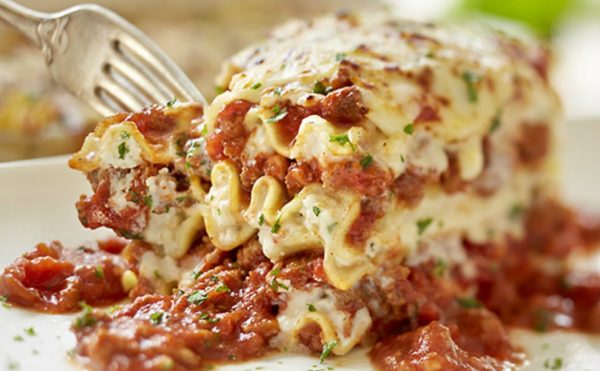 | | |
| --- | --- |
| | |
Preheat oven 350 Fahrenheit

Heat oil in large skillet over medium-high heat. Sauté ground beef 3-4 minutes or until meat is mostly cooked. Drain meat in colander and return to skillet.

Stir in pasta sauce, mushrooms, Italian seasoning, allspice, ground cloves and pepper. Stir well, cover and simmer sauce on low for 15 minutes, stirring occasionally.

In large pot, bring 12 cups of water to a boil. Add lasagna noodles, 1 tablespoon olive oil and 1 teaspoon salt. Boil until noodles are almost al dente.

Drain and rinse noodles in colander under cold water until they are cool to the touch.

Using a 9 x 12 baking pan, lay noodles on the bottom to fit the width of the pan, overlapping the edges slightly. If the noodles do not reach the end of the pan, cut another noodle to fit across that end, making sure the entire bottom of the pan is covered.

Drain excess oil from sauce and pour 2 3/4 cups sauce over noodles. Using large spoon, spread the meat sauce over the noodles evenly.

Sprinkle 1 cup cottage cheese evenly over meat sauce.

Sprinkle 1 cup shredded mozzarella cheese evenly over cottage cheese.

Repeat layers 2 times. Finish by sprinkling parmesan cheese on top layer. (Feel free to add another layer if you have enough ingredients. Be sure to cook 5 additional noodles for an extra layer.)

Spray a piece of tin foil with cooking spray before covering the pan tightly. Bake 45 minutes, remove from oven and let sit covered for 15 minutes before serving.
- Drain all excess oil and liquid from ground meat before adding in sauce so that the lasagna will not be runny.
- Make sure the noodles are cooked only to al dente. Because they continue to cook during the baking process, they will fall apart when cutting if cooked too soft during the boiling process.
- Adding oil to the pasta water keeps noodles from sticking together.
- Spraying the inside of the tin foil before covering the pan prevents cheese from sticking to the foil as it bakes.
Recipe by Lorraine Soldo for www.culinarybutterfly.com