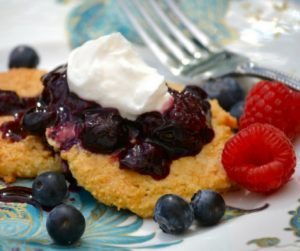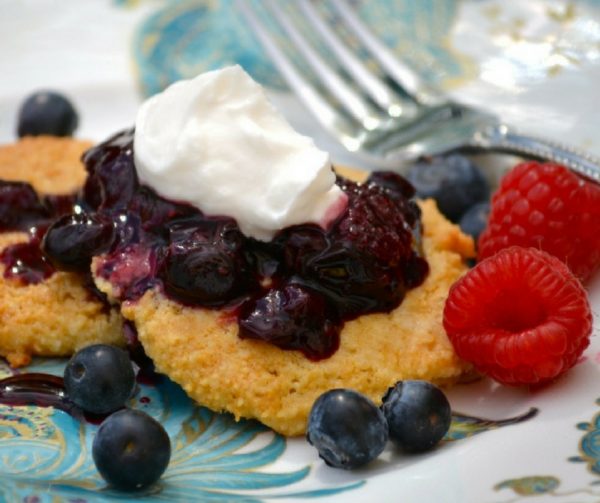 | | |
| --- | --- |
| | |
Coconut Honey Whipped Cream
Scoop out solid part of the coconut cream, leaving liquid in the can. Place coconut cream in medium bowl with honey. Using an electric mixer, beat together until it thickens into peaks. Refrigerate at least 15 minutes before you are ready to use.
In large sauce pan over medium heat, simmer blueberry juice, blueberries, honey, vanilla and salt for 8-10 minutes.

In small bowl, whisk together cornstarch and water. Slowly stir cornstarch liquid into the blueberry sauce. Bring to a boil and reduce heat. Simmer for 3 minutes. Remove from heat and set aside or refrigerate until ready to use.
Preheat oven to 350 degrees Fahrenheit.

In a large bowl, mix almond flour, salt and baking soda.

In small bowl, mix coconut oil, honey, eggs and lemon juice until blended.

Pour dry ingredients into wet ingredients and mix until combined into a dough.

Dust almond flour onto a piece of parchment paper and set dough on to flour. Place another piece of parchment paper on top of dough, gently rolling the dough out until it is approximately 3/4-inch thick.

Using a mason jar or cup, press circles into dough to makes cakes. Remove extra dough from around cakes and roll out to make more cakes.

Carefully slide a baking sheet under dough and parchment paper and transfer to oven.

Bake 10-15 minutes until edges are golden brown or inserted toothpick comes out clean. Remove from oven and cool on parchment paper.
Place shortcake on serving plate.

Top cake with 2-4 tablespoons of compote.

Spoon the whip cream on top and serve.
Recipe by www.culinarybutterfly.com
Coconut Honey Whipped Cream recipe adapted from Against All Grain by Danielle Walker